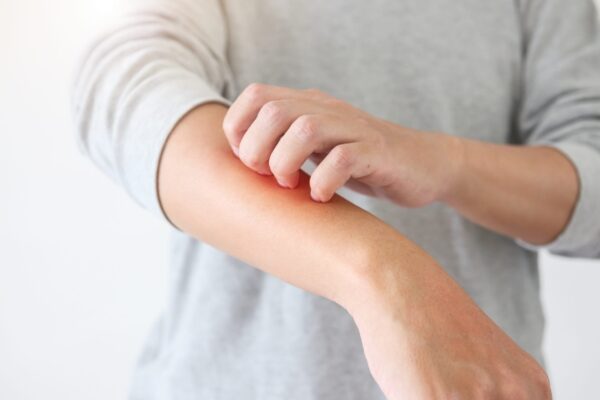 [ultimate_heading main_heading="Eczema (Atopic Dermatitis) Treatment Lehi, UT" alignment="left" main_heading_margin="margin-bottom:10px;"]
Eczema (atopic dermatitis) is a disorder associated with dry skin, which begins with intense itching that is aggravated by scratching. The exact cause of eczema is unknown, and there is no known cure.
It is a condition primarily affecting allergy-prone people.

Heat, humidity, detergents/soaps, abrasive clothing (eg, very scratchy wools), chemicals, smoke, as well as stress may trigger eczema.

Scratching increases the chances of developing a superimposed infection because it produces breaks in the skin.
[/ultimate_heading]
The most common locations for eczema include the face, neck, in front of the elbows, behind the knees, and on the extremities. Adults with eczema may notice the most irritation on the arms and legs, particularly in front of the elbows and behind the knees.
Thickened, scaly, pink to red papules, and plaques are seen in these areas.

Mild – few, scattered areas of involvement that are easily treated with self-care measures
Moderate – more extensive involvement that is more difficult to control with self-care measures and may require prescription therapy
Severe – diffuse involvement that is difficult to treat even with prescription therapy

Some adults may have primarily chronic hand involvement.
Areas with superimposed infection can develop thick crusts.