Freckles, dark spots, age spots, liver spots, or sunspots. Whatever you want to call them, these brown patches, medically termed lentigo, are typically found on the face and hands and can make us look older than we feel.  Here are some pictures of what I mean: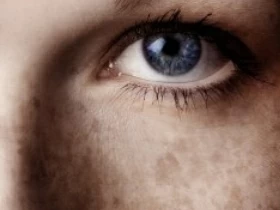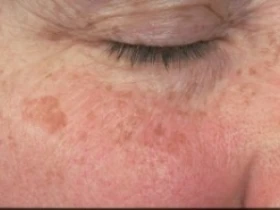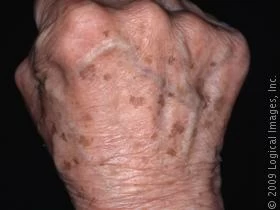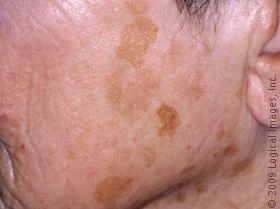 There are many ways to get rid of or lighten these pesky brown spots.  While many lasers, chemical peels, and a variety of creams are used to treat these lesions and treat them effectively, I've been very impressed with the results from the Fraxel dual laser.
The Fraxel is a very popular cosmetic treatment, and it is also used is used to treat scarring, fine lines, and wrinkles as well as lightening the brown spots and smoothening blotchy pigmentation that comes with sun damage.
The Fraxel is considered a facial resurfacing laser that works by creating a checkerboard pattern of thermal or heat energy in the skin. This energy is delivered with laser precision causes specifically placed heat injury to the skin which results in a type of peeling or exfoliation. This in turn causes skin tightening and new collagen formation.  Here are some pictures of results from the Fraxel laser when used specifically to treat "lentigo".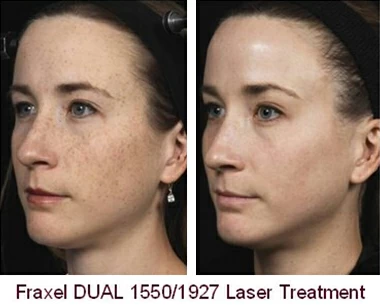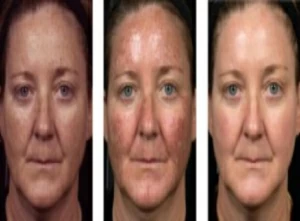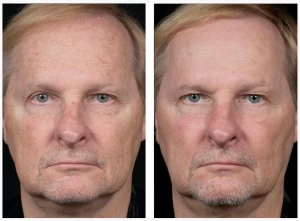 The Fraxel is not as aggressive as some other facial resurfacing methods which makes this a comparatively very safe option with little to no downtime depending on each individual's response and how comfortable you are going into work with a little redness and maybe some peeling.  Some mild swelling for a couple of days is not unusual either. And sometimes a few treatments are needed to get the desired effect, especially when using the Fraxel to treat scars and wrinkles.
A little more detail:
The Fraxel laser was initially launched as a 1550nm erbium fractionated non-ablative laser. A later model called the Fraxel dual was produced and has the classic 1550mn setting as well as a 1927nm thulium laser setting.
Terms to know from the previous paragraph:
Ablative vs. non-ablative
Ablative lasers are more aggressive as they vaporize the tissue, Non-ablative lasers cause damage to the desired target cells through heat energy, but do not vaporize the tissue.
Fractionate vs. non-fractionated:
Fractionated lasers deliver energy in a checkerboard pattern, which can be beneficial in certain treatments as it leaves zones of untreated skin that make the subsequent healing process more rapid.

The 1550nm setting has been used for years as an effective resurfacing laser for wrinkles and to tighten the skin. The 1927nm setting was added to better target the brown discoloration.
When used to treat wrinkles the results achieved from one treatment of the Fraxel are not nearly as impressive as from one treatment of an ablative laser. The upside, however, is that Fraxel has much less social downtime and fewer side effects. A series of Fraxel treatments (typically 3 to 6 treatments) at 2- to 4-week intervals is recommended for the best clinical outcome when trying to treat skin laxity and wrinkles. Fewer treatments are necessary when you're goal is to treat brown spots. Repeated Fraxel treatments can achieve a similar result for acne scars when compared to traditional ablative laser skin resurfacing.   However, the improvement is seen after a series of Fraxel treatments for very deep wrinkles around the mouth and eyes often falls short of the impressive results that can be achieved with ablative laser skin resurfacing.