This is really cool stuff! It literally lends credibility to the title of this post, liposuction in a needle. The product is called Kybella (deoxycholic acid) and with it, a sharper jawline maybe just a few injections away.
The FDA recently approved Kybella for treatment of adults with moderate-to-severe fat below the chin, known as submental fat. This is fairly groundbreaking as kybella is the first-in-class medication. There is literally nothing else on the drug market that is FDA-approved to dissolve fat in this manner.
A bit of history:
Compounds like kybella have been injected into the body for many years to try and tighten skin and destroy fat, but this is the first time that a medication like this has successfully undergone rigorous study and clinical trials to obtain FDA approval.
Kybella is deoxycholic acid, a secondary bile salt, found naturally in the body. Its job in the body is to emulsify or surround fat and help the body absorb dietary intake. When Injected directly into fatty tissue the deoxycholic acid ruptures cell membranes and causes destruction of the fat cells. Once destroyed, those cells can no longer store or accumulate fat.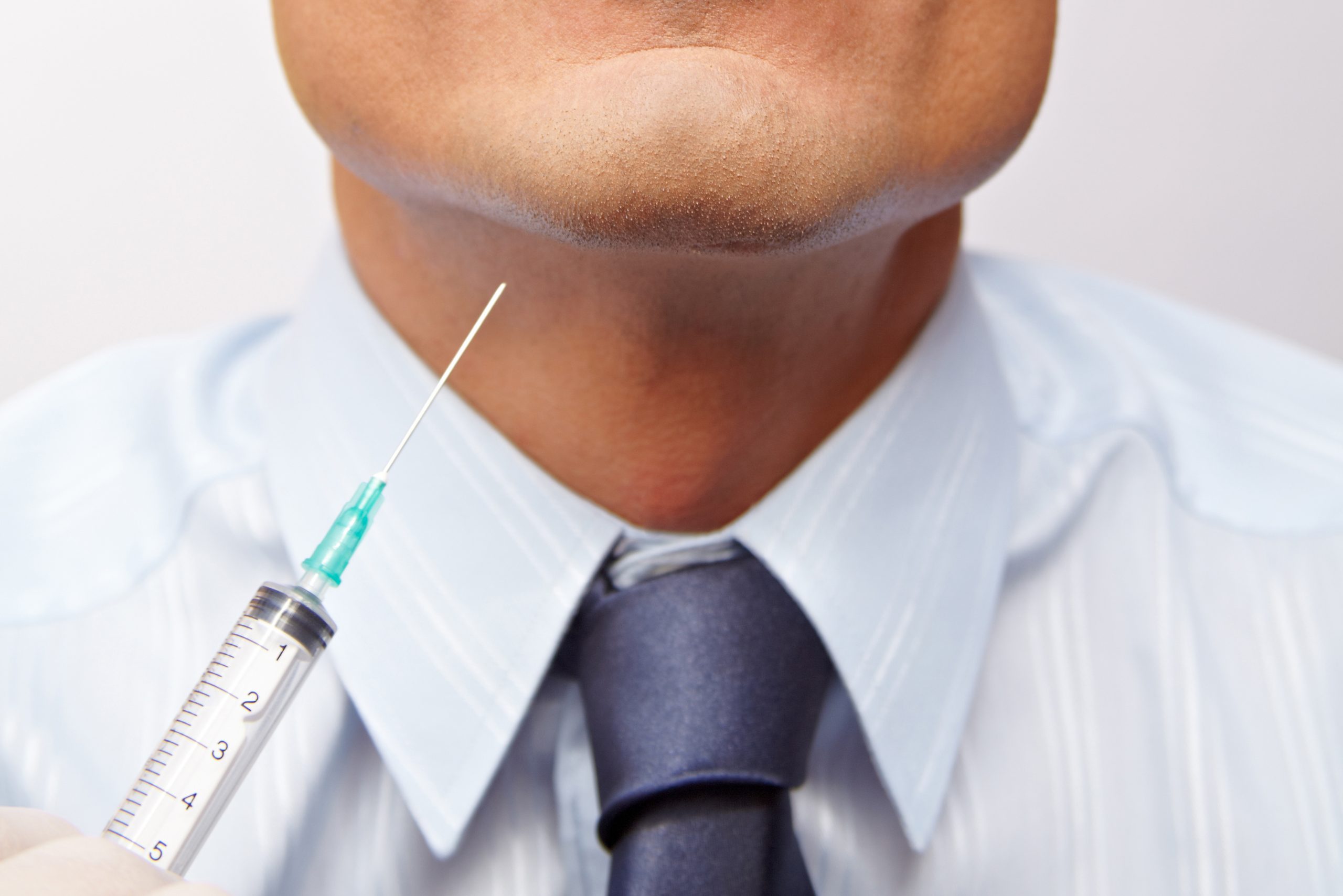 What is treatment with kybella like?
First, we will clean the skin and mark out the area to be treated under the chin. The area is then typically numbed with either topical or injected numbing medicine such as lidocaine. Kybella is then injected directly into the submental fat pad under the chin. The entire treatment lasts for about 15 min.
In the Kybella studies, approximately 70% of patients were getting their desired results in 2-4 treatment sessions, but the treatment can be repeated as necessary to achieve the desired outcome. Treatments in the study were spaced out every 4 weeks, but I think we will find that this is too close together and that waiting closer to 8 weeks in between treatments will give a more accurate perspective on results.
Since fat cells do not regenerate, once the desired aesthetic outcome is obtained, the need for retreatment at any time is not expected. Even if weight is subsequently gained.
Expected side effects from the treatment include redness, bruising, and swelling. Discomfort, as would be expected from the sensation associated with a bruise, is also common. These last anywhere from 3-7 days on average. Rare side effects noted in the study were all temporary but included difficulty swallowing or nerve injury resulting in an uneven smile for a few weeks.
Overall, I'm very excited about this therapy. It's new, it's safe, and it works.
See some before and after pictures below: