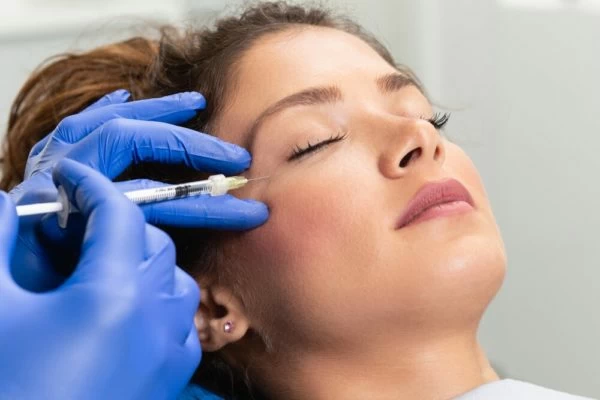 Neuromodulators
(Botox, Dysport, Xeomin, and Jeuveau)
Neuromodulators are wrinkle-relaxing injections of botulinum toxin commercially known as BOTOX®, Dysport®, XEOMIN®, and Jeuveau®. They are used to treat wrinkles, frown lines, and crow's feet. A minute amount of the neuromodulator is injected directly into the underlying muscle, causing it to relax and gradually smooth out the appearance of the overlying skin.
Botox and other neuromodulators have a wide range of uses both cosmetic and medical. When used for aesthetic purposes, Botox and its peers can treat and prevent the appearance of wrinkles primarily on the upper part of the face. While Botox, Dysport, Xeomin, and Jeuveau are extremely similar in that they are all neuromodulators that decrease or even stop muscle movement, there are subtle differences between each that make some options more suited to different clients. However, for practical purposes, your ideal result may be achieved with any of them. At Smart Skin Dermatology, we carry both Botox and Dysport.
Frown lines
Lipstick lines around the mouth
Jawline
Neck
Crow's feet
Forehead
Under eyes
Top of the nose (bunny lines)
Eyebrows
BOTOX® Cosmetic: the first and most-used type of injectable for facial wrinkles, BOTOX® Cosmetic, is made from Botulinum toxin. Botox is most commonly used for
Dysport: made from abobotulinumtoxinA, Dysport is used for and works best to address frown lines between the eyebrows via a patented 5-point injection technique.
XEOMIN®: made from incobotulinumtoxinA, XEOMIN® is sometimes referred to as "naked Botox" due to the lack of additives. It's best for use around the eyebrows, eyes, forehead, and mouth.
Jeuveau®: this botulinum toxin type A injectable is sometimes referred to as "the new Botox." It may be a better fit for certain areas of the face compared to BOTOX® Cosmetic.
To determine which Neuromodulator is right for you, schedule an appointment today to go over all the options available.
Neuromodulators are quick, minimally-invasive treatments that are performed in-office in under 30 minutes. After the initial consultation, we will mark the area and inject your chosen product. You can generally resume your typical activities directly after the procedure but may be advised to avoid heavy exercise and bending for 12-24 hours. wrinkle-smoothing effects are typically visible in about 2-3 days, with effects peaking at 1-2 weeks and lasting to some degree at least a few months.